Which Knee Ice Pack is Best for You?
With so many ice packs and cold wraps being sold online, it is easy to get lost in the search for the best product. Websites such as eBay and Amazon are offering thousands of products, all of which are making wild claims and ludicrous offers. So which is the best product for your injured knee? Below is a list of our reviews and tests of the products we found for knee injuries, and the real ratings we think they should get.
King Brand Knee ColdCure Wrap
Comfortable and High Quality Wrap
$59.99 - $64.95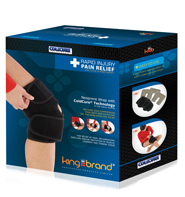 The wraps offered by King Brand have the best performance, quality and treatment therapy by far. This 'ColdCure' Knee Wrap is made from high grade, extremely comfortable neoprene fabric that offers complete coverage of the knee. It comes with multiple gel packs that are shaped like a 'U' so they provide cooling on the sides, and optionally, you can choose to cool either above or below the patella, giving it a larger range of cooling power. With no negatives for this wrap, it's well deserving of the number one spot on our reviews.
Wraps Offered At: kingbrand.com
KB Basics Knee Cold Wrap
Effective Cooling Despite The Low Price
$24.49-$37.99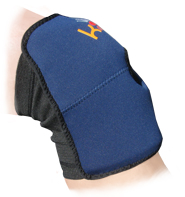 Another great success with the value of the KB Basics Knee Cold Wrap from King Brand. They use their RigiGel technology that's in their 'ColdCure' products in their basics line, making this knee ice wrap an effective means to treat inflammation on a budget. With exceptional cooling performance and comfort, the KB Knee Cold Wrap has it's own protective bag to store the wrap in during the re-charge cycle. Either the fridge or the freezer depending on the degree of coldness desired. Even though we speak highly of this product, the reason it doesn't get five stars along with the King Brand ColdCure Knee Wrap is because it only comes with one gel pack, so you can't do back to back treatments. Noting this as the only flaw, a four star verdict is delivered.
Wraps Offered At: amazon.com
Polar Ice Large Knee Wrap
Great Reviews For A Not So Great Product
$24.80 - $26.76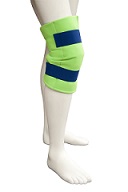 With large spaces between ice packs, and having the ice packs slip out during the use of the product, it wasn't a good start to this review. I was disappointed with this one mainly because there were a lot of great reviews on this product. When the ice packs were frozen they were rock hard, so getting a good fit on your leg was impossible without triggering pressure points. After about five minutes when the ice packs warmed up, it was quite pliable, but at that point there wasn't enough cold to maintain treatment. Back in the freezer it goes to become rock hard again. One of the nice things about it though was that it was good for larger legs, and the coverage was great. If they could work on a product that didn't warm up after five minutes, they might have something!
Wraps Offered At: amazon.com
übertherm Knee Pain Relief Cold Wrap
Paid Listings for a stiff gel pack that doesn't stay cold
$48.50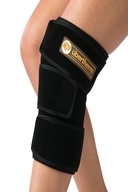 All of these reviews posted below, were found on the Amazon.com website. They have been unedited and found to be a good representation of how the product functions. We have found that our opinions of this wrap are very similar to the other purchasers below.

By Berrot McMusing:
I put the pack on my knee, waited - waited some more, waited waited waited - it was on a full 20 minutes and NOTHING. Took the ubertherm off and my knee was normal temperature.

By meribeth griffith:
Too bulky and heavy. It's weight alone hurts my kneecap. I regret buying it.

By Richard C:
You can't walk around with this on your knee --- I doubt you could even keep it on your knee in the position shown in the promo photo. This is meant to be worn when you're sitting with your leg propped up and not moving.

By Susan Long:
Too heavy of material, so you don't feel the cold. Not enough material to wrap if you have a larger leg.
Wraps Offered At: amazon.com
Shock Doctor Ice Recovery Compression Knee Wrap
It Didn't Fit Properly
$50.21 - $64.99

The biggest issue is that the gel packs are not, and I hope I'm phrasing it right, sewn in or stationary. Unless you fold the wrap properly and put it neatly in the freezer, the rectangular gel packs are going to move around (instead of vertical, you will find them horizontal, or may even be falling out). When removed from the freezer you may need to readjust them.
The second issue is that the gel inside each pack also moves about. If not careful you will find that some areas of the rectangular gel packs are thicker than others. That means you will need to flatten the packs either before or after in order to get an even cold distribution when you put it on. To me this felt like extra work and unnecessary because competitive designs did not have those issues. Being in pain the only thing I wanted to do, when I reached inside the freezer for the wrap, was simply put it on.
I think this wrap would be a better fit for knee injuries that are more localized. It's a quality product, but for someone with total knee replacement it is probably better to look elsewhere. It would work great for someone that just wants to ice their knee after a good workout.
Wraps Offered At: amazon.com
Elasto-Gel Hot/Cold Knee Wrap
Bulky and Finicky
$35.99 - $59.71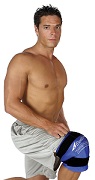 Why is it so hard to find companies that have figured out how to make a gel that retains cold? Companies are becoming too technical in having one product do multiple things. Perfect for a cold wrap, and then a warm one. Market them separately! Just because you can microwave and freeze something, doesn't mean that you should! The wrap doesn't stay cold and the gel slips and slides inside the fabric, even when you don't move. Having 10 feet of wrap with velcro at the end makes it hard to wrap because it sticks to everything around it as you're trying to wrap it up. The images online show a covered patella while the product that is delivered as an open patella hole. Mis-marketing, bad R&D and they ask for way too much money.
Wraps Offered At: amazon.com
O2 Cold and Compression Knee Wrap
Would Not Recommend
$32.95 - $45.99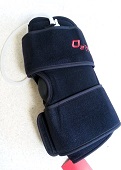 After ordering this on Amazon, when the product was received, it looked like it had been used previously and returned. The packaging wasn't sealed and there were no instructions included, making it very hard to figure out how to use this. The tubing for the compression kept popping off, and when using the gel pack from the freezer, it was as stiff as a board and really hurt. It didn't work great for continuous cold therapy treatments because it took over an hour for the gel to freeze between uses. Having multiple gels would have been a great bonus, but you cannot buy them without the wrap. I wouldn't recommend using the gel from the freezer. The fit without the o2 compression was nice and relaxing, and even though it was slightly cumbersome, my knee felt protected. Make sure that you put something between your skin and the wrap when using it, because I believe the chance of getting frost bite on your knee is a very real possibility.
Wraps Offered At: amazon.com
Knee Wrap With Ice Bag
No Support and Cumbersome
$10.05 - $11.99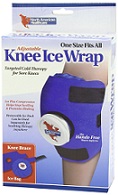 For a wrap with a low price, it's been made because it's disposable. The ice pack has great coverage, but putting ice into the bag and securing onto your knee causes pressure points from the ice cubes. After only a couple of uses the ice cubes have seemed to puncture through the bag and now has a slow leak. Since its a screw lid with imprecise fittings, this isn't really surprising give the temperature variations between the ice and air. The wrap that surrounds the brace is marketed as a brace, but there are no real support features in the wrap that I have found. The combination of having a brace with an insertable ice pack was inspiring, but unfortunately this did just not hold up to my expectations.
Wraps Offered At: amazon.com
Cold One Knee Ice Compression Wrap
One Major Flaw
$53.99 - $69.95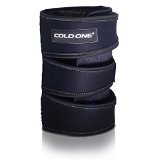 While the Cold One is made with good quality materials and seems to be well constructed, there is one huge problem. When it's frozen, it goes hard as a rock. This makes it very uncomfortable to wear and pretty much impossible to walk in. It can also cause further pain to your already injured knee. If the wrap came with soft gels instead of sewn-in pockets of water that freeze like ice, this product would have easily received at least 3 stars. Another problem with the sewn-in pockets of water is that they don't provide long-lasting cooling power. Even after freezing the product overnight, the cold only lasted 10 minutes or so.
Wraps Offered At: dme-direct.com
Thera Pearl
Great Product If Your Knee Doesn't Bend
$14.78 - $19.99

This is another pack that doesn't stay cold enough for nearly long enough. By the time you're comfortable on the couch, you have to get back up to recharge it again. While you're up grab a towel, because as it warms up it sweats, leaving whatever clothes it came in contact with wet. If having it not sit tight on your knee and not being able to bend your knee isn't enough, the seams of the gel packs split wide open without much effort at all. They could have this product listed for $5.00 and I wouldn't buy it again.
Wraps Offered At: therapearl.com
Related Forum Content from the makers of the BFST→
You might be asking yourself who is King Brand, and why is their forum content so important. Well, here's why! King Brand takes pride in knowing that their products will help heal people, and they aren't afraid to show it. Their commitment to helping people heal naturally, is the pillar in which the company has grown on.
The term BFST stands for Blood Flow Stimulation Therapy and it was created by King Brand Health Care. Blood flow is very important to help heal injuries, and after years of research and development they have come up with a product that does just what it says. No other company can match what King Brand does. They are the only company on the market that can directly target injuries at a cellular level with no surgery or doctors visits needed. Of course it's important to visit the doctor when you've injured yourself, but their treatment modalities can be done in the comfort of your own home.
The King Brand forum is a great place to research specific ailments and to figure out whether or not the BFST and ColdCure products can help. Their treatment advisors are constantly posting on forums to help educate people on how to heal their injuries. If you can't find the answer you're looking for, then feel free to take part in their forum by registering.
Just below, is a prime example of the quality customer service that King Brand provides on a daily basis. This is the perfect online community that will help educate, heal and get you back on your feet in no time.
→

Click here for the the full King Brand® Forum Experience
Meniscus tear
Hello, I have a meniscus tear that is fairly significant. I don't have a lot of pain but I do get some pain when i walk on it and i do have swelling. Will your BFST and coldcure products actually heal this tear so i don't need to have surgery or are these products more like this will help a 60% or 70% of injuries. I guess what I am asking is if this is 100% of course with proper rest etc? I really do not want surgery but i don't want to put it off if I try this and it doesn't work for me. Any help would be greatly appreciated. Thanks
Re: Meniscus tear
In addition, how long could I expect to be resting and using your product before i can walk stairs without pain and be able to kneel down without pain? Your site said it could take a year or more so i just want to understand expectations. I assume even surgery would take time to heal but the doctor says i'll be 100% in 6 to 8 weeks but i don't know if i would be fully healed in 6 to 8 weeks after surgery either. Thanks
Re: Meniscus tear
Hi Loug,

Don't allow your Meniscus to be cut away forever by "repair surgery". You should only undergo Meniscus surgery if it is absolutely necessary. Your Meniscus is living tissue that can heal. Meniscus Repair Surgery very rarely actually repairs your Meniscus. The procedure usually gets rid of the pain by getting rid of the tissue, not fixing the actual problem.
If the tear is a complete tear, surgery is sometimes necessary, however, our products can also be used post surgery to help you heal more quickly.

Our products can help to fully heal a meniscus tear.

If you want to heal your Meniscus as quickly and completely as possible, we recommend using the BFST Knee Wrap and ColdCure Knee Wrap. While rest will help you avoid doing any further damage to your Meniscus, rest alone is not enough to accelerate the healing process. If you want to get back to doing your regular activities in a reduced amount of time, the BFST and ColdCure Knee Wraps can help with that.

Wear a ColdCure Knee Wrap as much as possible to relieve your pain and swelling and protect your Meniscus from further damage. It's important to understand that while cold therapy is an essential first step to healing, cold itself won't heal your underlying injury. The purpose of cold is to eliminate your inflammation and help with the pain. The BFST should not be used until the inflammation and pain are gone from the affected area, because you want to restrict the blood vessels when you have pain and swelling, not open them up. Blood flow therapy works to speed up the healing process for tissue that's no longer painful or swollen.

After the swelling and inflammation have been reduced, you will want to begin using the BFST Knee Wrap and doing 3-4 treatments throughout the day. The most important treatments are first thing in the morning and right before you go to bed. The treatment first thing in the morning will act as a "warm-up" for your knee, and the treatment right before bed will help your circulation improve as you sleep. You will also want to use the BFST before any physical activity. This will help you heal quickly. The BFST stimulates blood flow through your Meniscus while you are at rest. It is designed to promote blood flow in injured tissue below the dermal (fat and skin) layer. Utilizing our proprietary Energy Web®, specially controlled and incredibly safe, low levels of EMR energy envelop your knee and stimulate blood flow in the soft tissue deep beneath the skin. The resulting stimulation brings oxygen and nutrient-rich blood to the injured area, accelerating the healing process. Adequate blood flow is required for the Meniscus tissue to heal properly and quickly.

Finally, you will want to use KB Support Tape to avoid reinjuring the area as much as possible. KB Support Tape is designed to provide tissue with extra support, and also helps prevent re-injury. KB Support Tape can be worn any time but it is most important during physical activity.

Using these three products, the ColdCure Knee Wrap, BFST Knee Wrap and KB Support Tape will help to fully heal your Meniscus Tear.

As for how long this can take, that does depend on the severity of the injury, but it can take a while for injuries to fully heal, especially if the area is not getting rest or is reinjured. I have provided a link below that contains more information on the healing process and how our products can help with healing.

https://www.kingbrand.com/Healing-Home.php

If you have any further questions, or would like to speak to a treatment advisor, please feel free to contact us at 844-400-2525 or email us at service@kingbrand.com
→

Click here to enter the King Brand® Forum
Copyright 2011-2021 King Brand Healthcare Products® Limited. All Rights Reserved.
Meniscus Injury Treatment,
Muscle Injury Treatment,
Neck Injury Treatment,
Plantar Fasciitis Injury Treatment,
Shoulder Injury Treatment,
Tendon Injury Treatment,
Wrist Injury Treatment,
BFST Wraps,
Blood Flow Stimulation Medical Devices,
Blood Flow Stimulation Therapy,
Blood Flow Stimulation Wraps,
LCL Injury Treatment,
MCL Injury Treatment,
ACL Injury Treatment,
PCL Injury Treatment.
King Brand
®
ColdCure
®
Cold Therapy ice packs and gels are the best solution to your ankle soft tissue injury. King Brand
®
ColdCure
®
RigiGel
®
Ankle Wraps hold the cold longer, stay in place and are safer than any other product. Treat your ankle pain with King Brand
®
for the best results.